The Huffington Post Trends Editor
"A baby elephant had an extremely close call after falling into an uncovered storm drain in southern Sri Lanka over the weekend.
Luckily, port workers in the coastal city of Hambantota heard the distressed calf's cries for help, the BBC reports.
They worked with wildlife officials to use sledgehammers to crack open an escape route for the trapped pachyderm.
One rescuer then fired smoke bullets to distract the adorable youngster's anxious mother, who was nearby, while others hauled the agitated animal out.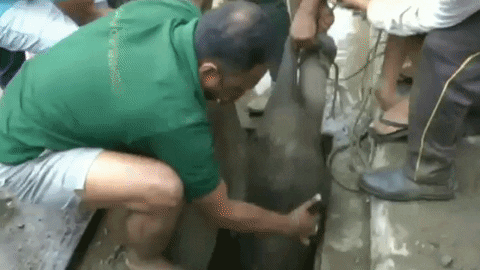 Video posted online shows good Samaritans helping the animal out of the drain and onto its feet. But it slumps to the ground, leading rescuers to suspect it had broken its leg.
They lifted the elephant into a vehicle, which took it away for medical treatment. Its current condition is not known.
Local news websites report an increasing number of wild elephants have been walking the city's streets in recent years, due to development of their natural habitats."
Click

here

for the original story